Testosterone Therapy Medications: Injectipms, Skin Patchs, Gels, Pellets, Tablets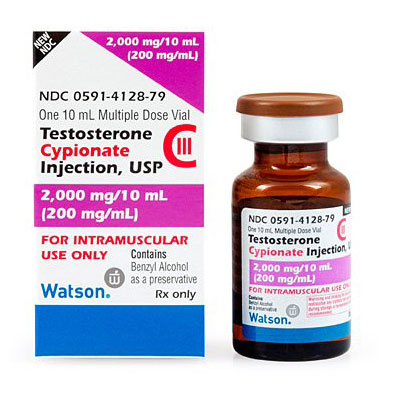 Testosterone deficiency is an easily treated medical condition that can happen to men or women. Receiving a diagnosis of low testosterone means you get to speak with a hormone specialist to select from a plethora of testosterone therapy medications to choose the one best suited for your needs.

Testosterone, in any form, is a controlled substance. You must have a valid prescription before you can purchase testosterone therapy in the US. Unfortunately, many people (especially bodybuilders and athletes) look to buy testosterone illegally. That has created a booming online "black market" business – which is also responsible for many unscrupulous companies selling counterfeit or inferior-quality testosterone.
We cannot stress enough the importance of going through legitimate channels to buy testosterone replacement therapy medications. That means sticking with licensed and regulated US pharmacies for all purchases. Buying testosterone online is a dangerous prospect and could damage rather than improve your health.
Purchase all testosterone medications from fully regulated US pharmacies and not online "black market" companies.
Best Types of Testosterone Therapy Medications for Women
When it comes to testosterone therapy medications, men have more options than women, due, in large part, to the long history they have of needing testosterone treatment. Research is currently underway to provide women with more choices than testosterone cream. A female testosterone patch is presently in the works with two different companies. Both have been turned down for approval twice by the FDA due to not meeting certain requirements.
Because the average cost for the medication for testosterone replacement therapy for women is so low, doctors continue to recommend the use of testosterone cream. Unlike estrogen cream and gel that requires rubbing over the entire arm, testosterone cream application is to a very small area of skin. Its effectiveness in raising testosterone levels in women is superior. Since testosterone is the precursor hormone to estradiol (estrogen), it can serve a dual purpose by increasing estrogen levels, as well. For women who should not use supplemental estrogen due to breast cancer risks, the doctor will prescribe an estrogen blocker to inhibit testosterone conversion to estradiol.
Other forms of testosterone that you read about below for men should not be used by women because the strength and dosages are too high. A compounding pharmacy will prepare the testosterone cream to the strength prescribed by the doctor.
Testosterone cream compounded by a pharmacy to the doctor's prescribed dosage is the best option for women with Low T.
Testosterone Therapy Medications Options for Men
Men have many options when it comes to testosterone therapy medications. Cost, convenience, and risks help determine the best choice. We recommend having a frank discussion with a hormone specialist about your lifestyle and any other people living in your home. Children and women must avoid coming into contact with testosterone treated skin to prevent cross-contamination.
Injectable testosterone therapy medications are the lowest in cost yet provide the highest rate of effectiveness. Because the testosterone directly enters the body, its absorption into the bloodstream happens the fastest. Many males find they receive quicker benefits with testosterone injections.
The following list features testosterone replacement therapy medication names broken down by category:
Testosterone Injections:
Testosterone cypionate – Depo-Testosterone, Watson, generic compounded
Testosterone enanthate – Delatestryl, Watson, generic compounded
Transdermal Testosterone:
Skin patch – Androderm applied once daily to the arm, shoulder, or upper body
Transdermal gel – applied once or twice a day depending on the treatment:
AndroGel
Axiron
Fortesta
Testim
Vogelxo
Transbuccal Tablet:
Striant – oral tablet you stick to the upper gums twice a day
Intranasal Gel:
Natesto – applied three times a day inside the nose
Implantable Testosterone Pellets:
Testopel – surgically implanted under the skin once every few months
Discuss the many options for testosterone therapy with your hormone specialist.
Which Testosterone Therapy Medications Are the Best Choice for Men and Why?
The listing of testosterone therapy medications for men is extensive. It may seem overwhelming to decide which is the right choice for you. Here are some facts that may help narrow the field before you speak with one of our hormone specialists:
Testosterone gels present the biggest risk of cross-contamination to children and women who come into contact with your treated skin. You must use extreme care when using testosterone gels. Testosterone gel is expensive to use.
Testosterone skin patches also pose a slight cross-contamination risk – especially if they fall off while sleeping and stick to your partner. Patches are one of the highest-priced forms of testosterone therapy.
Nasal testosterone gel can be irritating and is not recommended for men with allergies as it could exacerbate the problem. Because it is relatively new, this method of treatment is extremely expensive.
Implantable pellets offer convenience, yet they could work their way out from under the skin, reducing their efficacy. They are also difficult to remove if a problem occurs. This high-priced surgical treatment is not a commonly used form of treatment.
Testosterone cypionate and enanthate injections are considerably lower in price than all other options. They offer the highest level of effectiveness and are commonly prescribed to treat Low T in men.
Oral testosterone tablets can alter taste, irritate gums, and there is a risk of liver toxicity if they are accidentally swallowed. The high cost and side effects make this a rarely-prescribed option.
The two injectable testosterone therapy medications – testosterone cypionate and testosterone enanthate – are the best options for most men who need treatment for Low T. Please contact our hormone clinic for a free, confidential consultation.
Testosterone cypionate and enanthate injections are the most recommended, lowest-priced options for the treatment of male Low T.
Craig Donatucci, MD, Zhanglin Cui, PhD, Yun Fang, MS, David Muram, MD

Long‐Term Treatment Patterns of Testosterone Replacement Medications

Davide Francomano, MD, PhD, Dr. Alessandro Ilacqua, Roberto Bruzziches, Andrea Lenzi, Antonio Aversa, MD, PhD

Effects of 5-Year Treatment With Testosterone Undecanoate on Lower Urinary Tract Symptoms in Obese Men With Hypogonadism and Metabolic Syndrome

Michael Jay Schoenfeld, MA, Emily Shortridge, PhD, Zhanglin Cui, PhD, David Muram, MD

Medication Adherence and Treatment Patterns for Hypogonadal Patients Treated with Topical Testosterone Therapy: A Retrospective Medical Claims Analysis