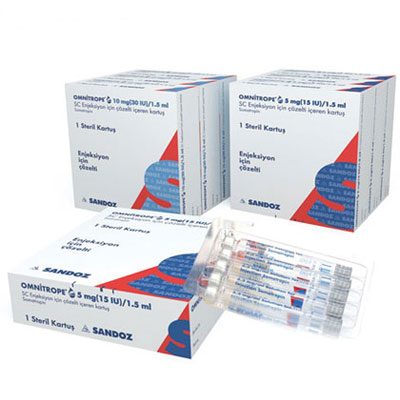 Thanks to Omnitrope HGH, adults throughout the US are enjoying life with the vigor they had in their earlier years. Omnitrope is the brand name for the human growth hormone injections manufactured by pharmaceutical company Sandoz.
With the same 191 amino acid sequence as somatotropin, the chemical name for the growth hormone secreted by the pituitary gland, Omnitrope provides the body with a ready supply of HGH. The bioidentical nature of Omnitrope allows it to be utilized by the body's growth hormone receptor cells without requiring any molecular changes.
Doctors specializing in hormone replacement therapy (HRT) test their patients for growth hormone deficiency if applicable symptoms are present. Omnitrope should only be used when prescribed by a doctor following blood analysis and physical examination. Always discuss any medical concerns and conditions with a hormone specialist before starting treatment with Omnitrope HGH.
When Should Adults Use Omnitrope HGH?
To know if you can benefit from Omnitrope HGH results, answer these questions:
Do you find yourself frequently fatigued, lethargic, or running out of stamina?
Have you noticed the physical signs of aging – wrinkles, sagging skin, thinning hair, weight gain?
Are you concerned about memory loss, poor focus, or impaired cognitive performance?
Have you noticed a decline in height or lean muscle mass, or do you suffer from stiffness or joint pains?
Has your sex drive, performance, or orgasm strength decreased?
Do you seem to get sick more often than you used to, or does it take longer to recover or heal from illness or injury?
Are you depressed, stressed, or moody? Do you have a poor outlook or quality of life?
If you are over thirty years of age and answered yes to at least a few of these questions, you might benefit from receiving Omnitrope HGH injections.
What Are the Benefits of Omnitrope Human Growth Hormone Injections?
You can likely deduce many of the Omnitrope benefits just from answering the questions above. After all, why would we ask you about memory loss if Omnitrope HGH was not going to help it?
Please note that doctors do not prescribe Omnitrope for weight loss or energy or any of the other singular issues. Growth hormone deficiency presents with many symptoms. If weight gain or fatigue are your only concerns, then other treatments may be the right option. Of course, that does not stop you from receiving those benefits when you do have systemic symptoms of GHD.
The best ways to chart your Omnitrope before and after benefits are through pictures and keeping a written log. Take photos of your face and body before you begin treatment. Then repeat the process at three months into your treatment, and again at six months. You will undoubtedly notice many changes. A written log enables you to track your progress, as well.
Some of the top Omnitrope HGH benefits include:
Younger looking skin and thicker hair
Loss of belly fat and an equal gain of lean body mass (muscle)
Better sleep and more energy
Improved health and immunity along with quicker recovery
Stronger bones and reduced body aches
Sharper brain functions and memory
Enhanced sex life
Less anxiety and depression
Improved mood and outlook
Better productivity and motivation
This gives you an idea of the many benefits of Omnitrope HGH therapy.
How Do I Administer Omnitrope HGH?
Your medical advisor at our hormone clinic will discuss Omnitrope administration with you before your first shot. We want to ensure that you are comfortable with administering your HGH injections in the comfort of your home.
You will receive all instructions for Omnitrope, how to use written directions and online video links. One of our advisors can even talk your through your first injection over the telephone.
The Omnitrope HGH kit you receive will contain all your supplies, including HGH medication, diluent, needles, and a Sharps container for needle disposal.
If you have chosen Omnitrope in a vial, you will first dilute the medication with the accompanying bacteriostatic solution. A supply of insulin syringes will accompany your Omnitrope HGH for administering your injection.
The best Omnitrope injection sites are on your abdomen – approximately an inch from your belly button. The small needles make it easy and virtually painless to inject Omnitrope under the abdominal skin.
Omnitrope also comes in 5 mg and 10 mg injector pens. The HGH inside the Omnitrope pens is already in liquid form and ready to use. You will simply prime each new pen one time before initial use, and then you are prepared to go. A supply of fresh needles accompanies the pens for safe injection.
Is the Omnitrope Cost Expensive?
One of the best features about the offering of Sandoz to the human growth hormone market is the Omnitrope cost. Because Omnitrope is the most affordable brand of HGH available, it is also the preferred option for many insurance companies. While this is helpful for children, very few adults qualify for coverage of HGH therapy currently.
The most economical option is buying Omnitrope in standard vial form. The price you will pay depends on your Omnitrope dosage, frequency and duration of treatment, and selected method of HGH injection.
Although Omnitrope Pens cost a bit more than standard vials, they are still more affordable than other HGH brands.