Testosterone and Zinc Relationship: How Does Zinc Impact Testosterone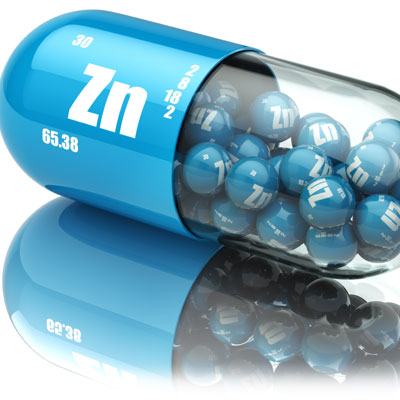 Although testosterone levels naturally decline as you age, the reason why you suffer from hypogonadism might be lack of zinc. Chances are you have heard about taking zinc if you are sick. Zinc lozenges can help reduce illness duration and even speed wound healing. What you may not know is how to use the testosterone and zinc relationship in your favor to improve hormone balance in your body.

Trusted sourceZincZinc and its importance for human healthGo to sourceZinc is a micronutrient, an essential substance the body needs for proper functioning of the hormone, immune, and enzyme systems. It is so essential for men that the prostate gland contains a high concentration of zinc.
That brings up another interesting relationship – zinc deficiency/low testosterone/prostate enlargement. What do these three things have in common? Testosterone levels decline with age, the same time that the prostate starts to enlarge. Men with low testosterone often have Trusted sourceZinc DeficiencyNational Institutes of HealthGo to sourcezinc deficiency would could also explain the increase in prostate size.
Does zinc increase testosterone levels if you supplement with it?
Zinc supplementation is a tricky subject. The best way to improve the level of zinc in the body is through food. Over-the-counter zinc supplements do help, but not as much as dietary zinc. It is also possible to take too much zinc, which would have an adverse effect on the body. Studies have shown chronic zinc deficiency as a potential influencer of developing benign prostatic hyperplasia (BPA).
Zinc and testosterone are closely related – not just together, but possibly also to prostate growth.
How Does Zinc Influence Testosterone?
An important point to bring up about the relationship between zinc and testosterone is that zinc only helps boost testosterone levels if the individual is zinc deficient. Just as using hormone therapy is only beneficial to right a deficiency, the same applies to zinc.
One way that zinc influences testosterone levels is by inhibiting the action of the enzyme aromatase. By stopping aromatase from converting free testosterone into estradiol, zinc maintains higher testosterone levels while lowering estrogen levels.
Aside from the prostate gland, you can also find higher zinc concentrations in the eyes, liver, kidneys, pancreas, muscles, and bones.
Another zinc testosterone connection may come from zinc's role in DNA synthesis, cell metabolism, and cell division. If zinc does help the body in that way, it may affect the Leydig cells in the testes that produce testosterone. Science does not yet have all the answers as to how zinc influences testosterone, we just know that men with Low T who have zinc deficiency tend to see significant changes from zinc increase.
Here is some information about the testosterone and zinc relationship:
Testosterone and Hypogonadism
Hypogonadism affects both men and women. Low levels of testosterone can cause many problems, including infertility. Because zinc deficiency affects hormone levels, it can weaken the body in many ways. Zinc is crucial for immune functions, wound healing, learning, and memory. Low testosterone is also implicated in forgetfulness.
Looking at the levels of zinc and testosterone in females, we find that zinc deficiency may impact fertility and the ability to have a healthy pregnancy.
The testosterone zinc for man impact is similar – low zinc and testosterone deficiency often equate to infertility and low sperm count.
Research and Studies
In one study to determine if zinc deficiency influences fertility, researchers found that low zinc levels impaired spermatogenesis in male rats. In that same study, researchers point out that an effect of zinc deficiency in humans is hypogonadism. Another study on the same subject found that male mice given low-zinc diets had lower concentrations of zinc in the Leydig cells and testes than mice fed a high zinc diet.
A new, 2019 study reports that hypogonadal men can safely take 220 mg of zinc sulfate twice a day for one to four months to help improve testosterone and sperm count.
Part of the testosterone and zinc relationship relies on zinc's impact on over 300 different enzymes. The production of testosterone stems from cholesterol conversion in a multi-step process of hormone transformation due to enzymatic activity. The body needs zinc to produce the many enzymes that help hormones carry out their functions.
Zinc helps inhibit testosterone conversion into estradiol, maintaining higher testosterone levels, and promotes testosterone production in the Leydig cells.
How Can I Increase Zinc Intake to Boost Testosterone?
The best way to increase testosterone levels with zinc is by incorporating more zinc-containing foods into your diet. With the proper dietary zinc boost, testosterone levels may begin to rise if you are zinc-deficient. The best way to tell is by consuming a greater amount of the following foods each day for a few months. If you do not notice a change, you may not have a zinc deficiency.
Here are the top zinc-containing foods to try:
Organ meats
Beef
Poultry
Pork
Shellfish – oysters are the top zinc-containing food
Eggs
Fish
Dairy – yogurt is a good option
Nuts
Beans
Fortified breakfast cereals
Toasted wheat germ
Oatmeal
Make sure to include at least one serving of a zinc-containing food to secure your testosterone and zinc relationship.
Incorporating zinc-containing foods into your daily diet is the best way to increase zinc levels, and subsequently testosterone production.
How Much Zinc Should I Take to Increase Testosterone?
When working with dietary zinc, the recommended amount is 11 milligrams. Not everyone can get enough zinc from their diet, so to maintain a healthy testosterone and zinc relationship, supplementation may be necessary. People with Crohn's disease or other gastrointestinal issues may not be able to absorb enough zinc into their bodies from food. Vegetarians and vegans may not consume enough dietary zinc. For them, taking a zinc supplement may also help.
How much zinc should I take to increase testosterone each day?
If you have a gastrointestinal disorder, or you are a vegan, vegetarian, or alcoholic, you may want to begin with a low dosage of 5 to 10 mg and work your way up to the higher dosage of 25 to 45 mg per day. Low dosage zinc supplementation is an excellent preventative against a deficiency. However, if you suspect that you have low testosterone and zinc levels, your body will likely need a higher dosage.
How much zinc should I take daily to increase testosterone, and which type of zinc is best?
There are four types of elemental zinc (all good), each with a unique weight, as you will notice on the product labels. Here are the dosages to consider for the different types of zinc:
Zinc citrate – 34% zinc by weight – 146 mg zinc citrate equals 50 mg elemental zinc
Zinc gluconate – 13% zinc by weight – 385 mg zinc gluconate equals 50 mg elemental zinc
Zinc monomethionine – 21% zinc by weight – 238 mg zinc monomethionine equals 50 mg elemental zinc
Zinc sulfate – 22% zinc by weight – 220 mg zinc sulfate equals 50 mg elemental zinc
You can take up to 100 mg of zinc per day if you need a short-term boost for testosterone levels. Do not go beyond that point. It is really not recommended to go above 40 mg of zinc. Also, at HGH Doctor, we caution against beginning any new supplementation before speaking with a doctor.
While you can supplement with zinc, we recommend speaking with a hormone specialist before making any changes that could affect hormone levels.
Side Effects of Too Much Zinc
Too much of anything can turn bad. When researching how much zinc to increase testosterone, be aware that side effects can occur if you exceed 40 milligrams per day. Current daily RDA – recommended daily allowance – for women is 8 mg and 11 mg for men.
Side effects of too much zinc include:
Abdominal cramps
Diarrhea
Headaches
Loss of appetite
Nausea
Stomach pains
Vomiting
Exceeding 40 mg of zinc per day for long-term can lead to significant side effects.
Ananda S. Prasad MD, PHD, Chris S. Mantzoros, MD, Frances W.J. Beck, PhD, Joseph W. Hess, MD, George J. Brewer, MD

Zinc status and serum testosterone levels of healthy adults

Alan Leake, Geoeffrey Duncan Chisholm, CBE, MB, ChB, Fouad K Habib, PhD, DSc, CChem, FRSC

The effect of zinc on 5α-reduction of testosterone by the hyperplastic human prostate gland

A. Netter, R. Hartoma, K. Nahoul

Effect of Zinc Administration on Plasma Testosterone, Dihydrotestosterone, and Sperm Count

Christine Case; Medically reviewed by Graham Rogers, M.D.

The Link Between Zinc and Erectile Dysfunction

Written by Linnea Zielinski; Reviewed by Dr. Mike Bohl, MD, MPH

Zinc and testosterone: understanding the link

Jennifer Huizen; Medically reviewed by Debra Rose Wilson, Ph.D., MSN, R.N., IBCLC, AHN-BC, CHT